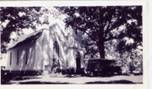 On June 17, 1854, the Rev. John Fairchild, his wife, Mary, Mrs. Jane Sears, and Mr. and Mrs. Jared Miller met at the Millers' log cabin home on what is now Timpson Avenue. Jared Miller was the first candidate for baptism. They were formally approved as a Religious Church and Society on February 13, 1855.
For five years they worshipped in a log school house on the Dygert/Moss farm. Later, services were moved to the Merriman frame school house on the corner of 52nd Street and Bancroft Avenue.
In February 1878, it was voted to build on our present site which was donated by David Skidmore and platted from his farm. The new "meeting house" was completed in 1879 with nearly all the labor and materials having been donated by the community. In 1884 a parsonage and a barn were built on the adjoining lot.
In 1899 a missionary system was adopted to support "Home Missions, Foreign, and State Missionaries"; this policy as has been carried faithfully through the years with the Word of God being taken to many places around the world.
In 1936 the first Vacation Bible School was held with the first youth group organizing the next year in 1937. Pastor Burt Gardner came in 1931 and stayed for 19 years which is the longest tenure of any pastor.
On July 23, 1978, the dedication was held for our educational and office wing which included a gym, ten classrooms, kitchen, new restrooms and offices. On June 13 & 20, 2004, we celebrated 150 Years of God's Faithfulness to us at First Baptist Church of Alto. By His grace, we will continue to minister in His faithfulness until Jesus returns to call His church to glory.
May God be honored and praised for
"Great is thy Faithfulness…"
Lamentations 3:23